IAG IS ALWAYS HERE TO RENT YOU THE BEST CONSTRUCTION EQUIPMENT AT ANY TIME ANY WHERE.
Renting construction equipment offers a number of advantages for your business, including the following:
1. Equipment Is Reliable and Well Maintained. The units available for rent are inspected regularly and the hours of use are tracked. All equipment that has logged high numbers of hours is rotated out of circulation and replaced. All construction equipment available for rent at any time is in good condition and ready to go to work.
2. Rental Equipment Features the Latest Technology. To stay competitive, the rental company offers its newer models featuring the latest technology. By choosing to rent the equipment you need, you and your crew get the opportunity to work with equipment with the latest features and benefits. As a result, you may be able to save time and money when completing your project.
3. Renting Means You Can Work with the Right Equipment. You won't be stuck trying to make do with your existing equipment on a job site; renting gives you access to a complete inventory at your disposal. Choose exactly the piece of equipment you need from Cat® and other quality Allied brands and get the job done right.
1. No Capital Investment Needed. When you decide to rent construction equipment, the only time you will incur an expense is when you need it for a job. You're not tying up cash flow on a regular basis paying for financing costs.
2. Service and Maintenance Costs Are Eliminated. These costs are the responsibility of the rental company. If something goes wrong while you are using a piece of rental equipment, you can simply arrange to return it for a replacement. The rental company is responsible for any repairs, as well as general maintenance on all of its equipment. You do not have to account for maintenance expenses in your budget for that piece of machinery.
3. No Long-term Storage Fees Are Required. Since you only rent the construction equipment when you need to use it for a specific job, you aren't responsible for the cost of long-term equipment storage for it.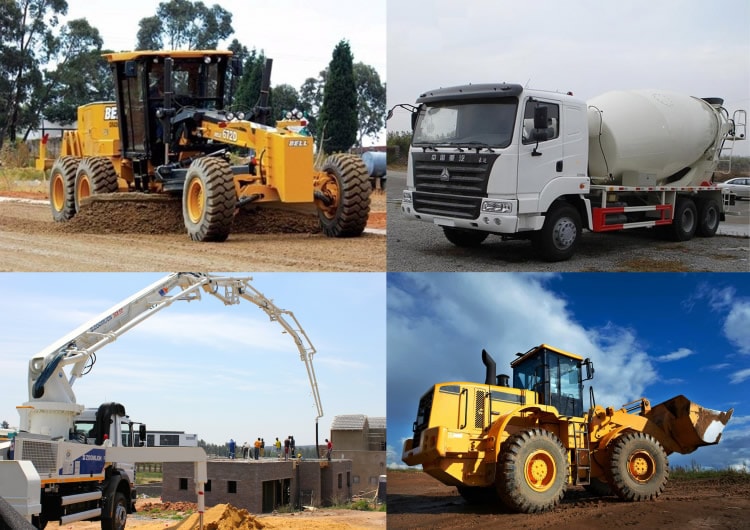 IAG IS ALWAYS HERE TO RENT YOU THE BEST CONSTRUCTION EQUIPMENT AT ANY TIME ANY WHERE.
4. Opportunity to Try New Models Before Making Buying Decision. Reading about a piece of equipment's features and benefits doesn't always give you the true picture of what it would be like to operate it on a job site. If you are in the market for new equipment, you can try out new models and get some "hands-on" experience before making your final decision about which one is right for your business.
5. No Need to Account for Depreciation. The full cost of renting construction equipment can be deducted in the year it is incurred, as opposed to you having to take a deduction for depreciation over several years if you decide to buy it outright. Depending on the total amount of this deduction, this could be to your advantage at tax time.
Which Construction Equipment to Rent
Here are some examples of construction equipment available for rent:
Backhoe Loaders. These heavy earthmovers are tough and strong. Weighing in starting at 22,000 pounds, they can travel at speeds of up to 25 mph to get you to your job site quickly. Backhoes can be outfitted with a truss broom, angle broom or forks, depending on the type of job you need to perform.